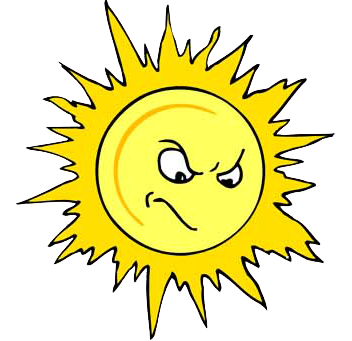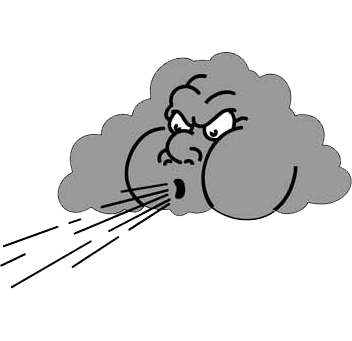 Inspections
Energy Audits:
To every inspection we perform we apply expertise acquired from being a HERS and Energy Star Rater. There are several types of inspections to be done depending on problems being experienced. Some inspections may be subsidized by AEP Incentive Programs.

FREE Basic Energy Audits are conducted upon request and include examination of:
1) Existing attic insulation for composition, depth, consistency, low spots, bare spots, etc.
2) Central air distribution system for duct leaks and separations, etc.
3) Water pipes and electrical wiring in the attic for faulty issues.
4) Attic vents for proper ventilation, etc.
5) Attic hatch for blocking, insulation, and weather-stripping.
6) Recessed ceiling lights for UL rating and proximity to insulation.
7) Exhaust ducts from heat producing appliances for proper installation.
8) Walls and floors for insulation composition and R-Values.
9) Room by room visuals of air infiltration areas in the envelope.
10) Lighting and condition of appliances for efficiency.
After every Basic Energy Audit we review with property owner the measures recommended to improve your home's efficiency, if any. Measures will be prioritized based on comfort level, efficiency and savings return. An Advance energy Audit is also offered to evaluate the efficiency of the home.
Advanced Energy Audits include:
1) All items under the Basic Energy Audit.
2) Examination of the Central Air and Heating System's distribution system using a Duct Blaster.
3) Examination of the Envelope of the home using a Blower Door to pin point air leakage.
4) Examination of the gas appliances for high levels of Carbon Monoxide.
5) Examination in thermal differences using infrared camera.
After an Advanced energy Audit is conducted a written report is generated and presented with the evaluations of the home and the proposed measures to improve the comfort level of homeowner and the efficiency of the home.
Energy Efficiency Mortgage (EEM) Inspections
An Energy Efficient Mortgage (EEM) is a mortgage that credits a home's energy efficiency in the mortgage itself. EEMs give borrowers the opportunity to finance cost-effective, energy-saving measures as part of a single mortgage and stretch debt-o-income qualifying ratios on loans thereby allowing borrowers to qualify for a larger loan amount and a better, more energy efficient home.
To get an EEM a borrower typically has to have a home energy rater conduct a home energy rating before financing is approved. This rating verifies for the lender that the home is energy efficient.
HERS Rating: New construction by plans or on the field inspections.
HERS Rating: Existing homes
Developed by the Residential Energy Services Network (RESNET), the Home Energy Rating System Index (HERS) is an analysis of a home's energy efficiency. The HERS Index is a nationally recognized scoring system recognized by Department of Energy (DOE), Department of Housing and Urban Development (HUD) and the Environmental Protection Agency (EPA) and used for measuring a home's energy performance. Based on the results, an energy-rated home will receive a HERS Index Score. This score can be described as a sort of miles-per-gallon (MPG) sticker for houses, giving prospective buyers and homeowners an insight as to how the home ranks in terms of energy efficiency. It also provides homeowners with a detailed report regarding energy problems in the house.
How Does the HERS Index Work?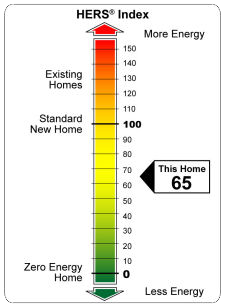 To calculate a home's HERS Index Score, a certified RESNET Home Energy Rater will perform a home energy rating and compare the data against a 'reference home' - a design modeled home of the same size and shape as the actual home so the HERS Index Score is always relative to the size, shape and type of house you live in. the lower the number, the more energy efficient the home.
The U. S. Department of Energy has determined that the typical resale home scores 130 on the HERS Index while a standard new home is rated at 100.
1) A home with a HERS Index Score of 70 is 30% more energy efficient than a standard new home.
2) A home with a HERS Index Score of 130 is 30% less energy efficient than a standard new home.
A comprehensive HERS home energy rating, conducted by a certified RESNET Home Energy Rater is the most in-depth energy performance assessment of a home that you can find. It consists of diagnostic testing using specialized equipment such as a Blower Door Test, Duct Leakage Tester, Combustion Analyzer and Infrared Cameras to determine:
1) Amount and location of air leaks in the building envelope
2) Amount of leakage from HVAC distribution ducts
3) Effectiveness of insulation inside walls and ceilings
4) Existing or potential combustion safety issues
Variables taken into consideration include:
A) Floors over unconditioned spaces (i.e. garages or cellars)
B) Attics, foundations and crawlspaces
C) Windows and doors, vents and ductwork
D) Water heating system and thermostats
The comprehensive HERS rating provides a computerized simulation analysis utilizing RESNET Accredited Rating Software to calculate a rating score on the HERS Index. The report will also contain a cost/benefit analysis for the recommended improvements and expected return on the investment.